Mosquito nuisance reported with Muggenradar- A progress update

Mosquito nuisance
The One Health PACT is interested in mosquitoes in the Netherlands. Part of the research into these mosquitoes is based on nuisance reports from citizens via muggenradar.nl. Every week, the subscribers to the Nature Today newsletter, are asked to report their experienced mosquito nuisance. When reporting their experienced nuisance, participants can choose between, no nuisance, a bit of nuisance, a lot of nuisance or extreme nuisance. In the period of 20 July to 25 August, over 1700 of these reports have been made. The reports are shown on the map in Figure 1. In this Figure, you can see the degree of nuisance experienced per region. On average, the experienced nuisance was highest in Friesland, followed by Groningen and Noord-Brabant.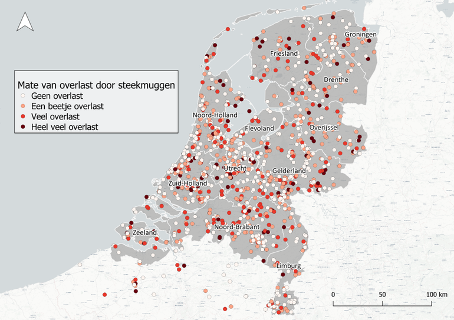 Increase in nuisance – heat wave
During the research period, the experienced nuisance increased. In July, around 30 percent of the participants reported mosquito nuisance; in August, this increased to around 60 percent of reported mosquito nuisance. In addition to that, there was a change in the type of nuisance reported: at the end of July, people reported a little nuisance, and, at the beginning of august, people reported a lot of nuisance. A possible explanation for this increase is the weather. At the end of July, the day and night temperatures increased with the two week lasting heat wave (5 till 17 August 2020). After this heat wave, the reported nuisance decreased again. Mosquito activity greatly depends on temperature. With hotter temperatures, mosquitoes are more active. And during hot nights, the number of people sleeping with their windows open increases as well, giving mosquitoes easy access to a blood meal. Furthermore, larvae of mosquitoes develop to adult mosquitoes quicker with higher temperatures, leading to a larger mosquito population.
What can you do to decrease mosquitoes?
The amount of breeding places can influence the population size of mosquitoes. Mosquitoes mostly breed in containers with still standing water, like flowerpots, buckets or rain barrels, over a longer period of time. Because these containers don't contain natural enemies, all the mosquito lave can become adult mosquitoes. This can result in a lot of mosquitoes: for instance, one rain barrel can contain a few hundred larvae. Therefore, emptying these kind of containers once every two weeks is a good measure against mosquitoes! Muggenradar also asks people if people take measures to prevent mosquito nuisance, and almost 75% of participants report taking measures. Almost one third of the participants has placed screen doors, 12% uses anti-mosquito agents and 6% sleeps under a mosquito net.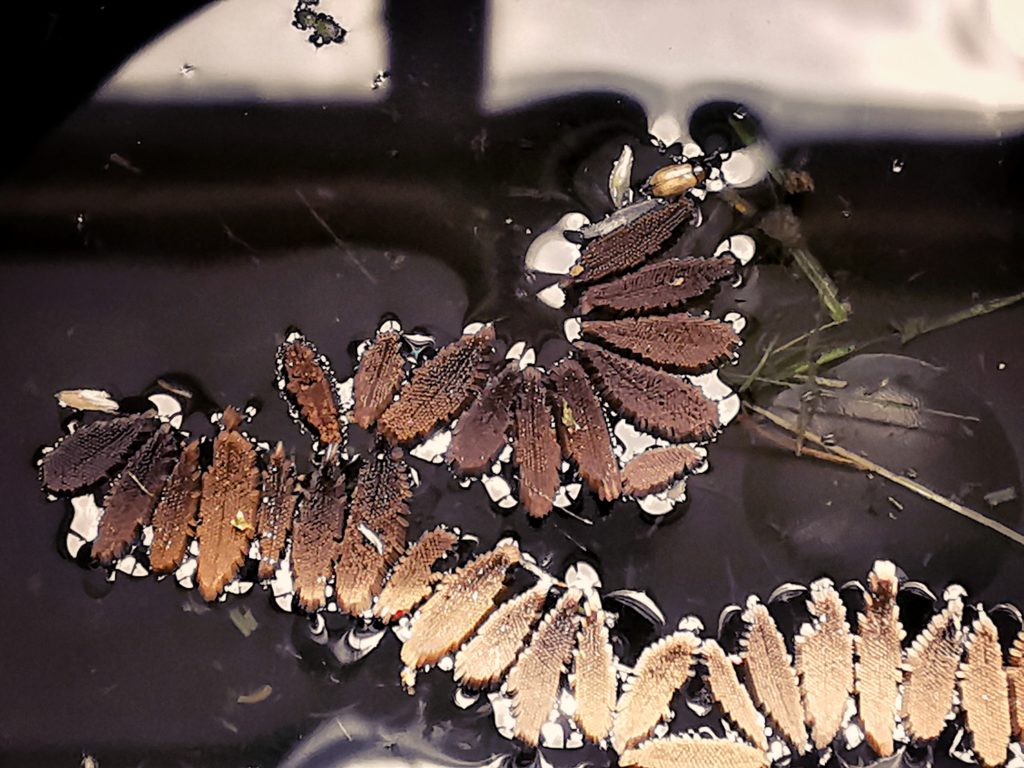 Mosquito eggs in water container
Use of nuisance reports in further research
In our research project, we do a lot of fieldwork. Part of this fieldwork is catching mosquitoes. With the data collected with muggenrader.nl, we can see whether the number of mosquitoes seen in the field corresponds with the nuisance reported by participants living in that area. This helps us with creating an overview of mosquito activity throughout the Netherlands. So all the reports on mosquito nuisance are welcome!
For more information
Rody Blom, PhD candidate track 1.
Email: Rody.Blom@wur.nl