ESCAIDE Poster tour 12 – One Health, global health and climate change
Mosquito-borne virus preparedness and response: a stakeholder network analysis for the Netherlands
Authors: Pauline A. de Best1,2 , Henk Broekhuizen3, Reina S. Sikkema1, Marion P.G. Koopmans1, Aura Timen2,4,5
1Viroscience, Erasmus University Medical Center, Rotterdam, the Netherlands., 2 National Institute for Public Health and the Environment (RIVM), Bilthoven, the Netherlands, 3 Social Sciences, Health and Society, Wageningen University & Research, Wageningen, the Netherlands, ​4 Primary and Community Care, Radboud University Medical Center, Nijmegen, the Netherlands. , 5 Athena Institute, VU University Amsterdam, Amsterdam, the Netherlands.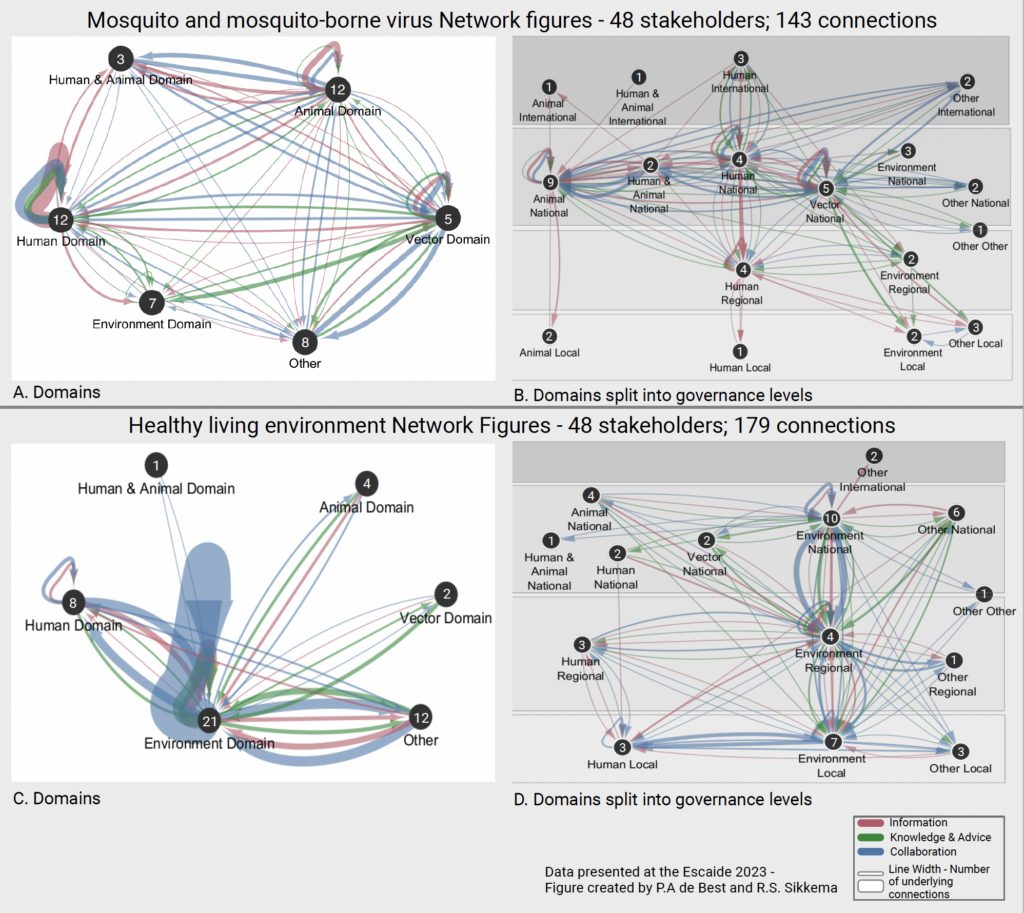 Figure description
Mosquito and Mosquito-borne virus (MBV) and healthy living environment collaboration, knowledge and information sharing networks between the human, animal, human-animal (organisations fitting both the human and animal domain), vector, environment and 'other' domains. Numbers correspond with the number of involved stakeholders in the domain.
Aims
To identify stakeholders involved in preparedness and response for MBVs.​
To visualize collaborations, and knowledge- and information sharing, between these individual stakeholders, and across domains and governance levels.
Results
Stakeholder network analysis MBV​
Few information sharing connections with environment domain.
Predominantly information sharing between national organisations​
Vector domain organisations are the main knowledge sharers​
Advice to local organisations is mostly on mosquito nuisance​
Only one collaboration with environment domain​
Predominantly collaborations between national organisations​
Healthy living environment​
Environment is the central domain in this network​
Multiple collaborations between the human- and environment domain including multiple collaborations on the local level​
Strong connections within the environment domain from national to regional and local organisations
More information? Contact Pauline de Best – p.debest@erasmusmc.nl